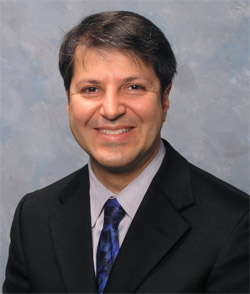 Dr. Madjid Matin has practiced dentistry since 1989. He has limited his practice to periodontology and surgical dental Implantology since 1991. He established Chevy Chase Dental, a practice dedicated to excellence in regenerative periodontology and dental implantology in 2005. He resides with his wife, Marjan and their two children Romina and Ryan in Bethesda, Maryland.
Dr. Matin received his Certificate of Advanced Graduate Studies in Periodontics in 1991, and Doctorate of Medical Dentistry in 1989 from Boston University Henry M. Goldman School of Graduate Dentistry. He received an undergraduate degree in Biology at the University of Houston, and earned distinction as a member of the Alpha Epsilon Delta Premedical Honor Society.
Dr. Matin is passionate about clinical practice of dentistry as well as teaching and training others to achieve excellence. He is a professor of periodontology at Washington Hospital Center and has been the founding member of several study clubs including the Chevy Chase Millennium Dental Club. A frequent lecturer on advanced topics in periodontics and implantology and has been a featured speaker at several of the annual National Capital Dental Symposiums.
He is an active member of the American Academy of Periodontology, the American College of Oral Implantology, the International Congress of Oral Implantology and the American Dental Association. He is also a Fellow of the American Society of Osseointegration. Dr. Matin is a member of numerous local dental study clubs and societies and currently the director of the DC and Maryland chapter of Millennium Study Club.