Cone Beam Computed Tomogrophy
We are pleased to be one of the first dental offices in the in the Washington DC area to have an in house Dental Cone Beam Computed Tomogrophy machine. This CBCT machine utilizes cone Beam technology which minimizes the amount of radiation. It is significantly less than that of a hospital CAT Scan unit and more inline with conventional dental x-rays. Therefore we can receive immediate digital formatting of information in 3D, rather than the historical 2 dimentional dental radiographic.
Stereo Lithographic Models of Maxiofacial Bones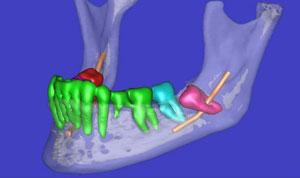 This technology has significantly improved the safty and predictability of our surgical procedures by providing an accurate anatomical model of the jaw. The digital data can be translated to the clinical setting by fabricating accurate guides.
Performing Your Surgery, Before Actually Performing Your Surgery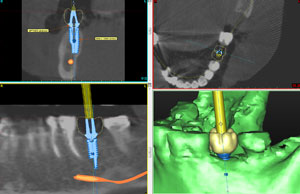 That's the difference between practicing dental implantology and leading it.
Every body is unique, so every surgery should be unique too. This is why we use leading-edge technology, like Simplant visual imaging, to create a 3-dimensional map of each patient's body and its vital structures to help Dr. Matin plan in advance. This detailed view allows us to place dental implants without damaging the tissue around it, leading to not only a more preceise surgery but a less invasive one. This technology has also been instrumental in collaborating with our restorative colleagues for ideal placement of dental implants.
Laser Treatment
Lasers can be used to treat periodontal disease. Current controlled studies have shown that similar results have been found with the laser compared to specific other treatment options, including scaling and root planing alone.
At this time, there is insufficient evidence to suggest that any specific laser wavelength is superior to the traditional treatment methods of the common periodontal diseases, such as periodontitis.
2015 American Academy of Periodontology.